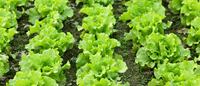 AgriCultivate: Grain prices holding for the time being, another record-breaking year for agricultural exports forecast and the rising cost of lettuce
---

The Russian bombing of the Nika-Tera grain port at Mykolaiv has put the global grain price fall on hold for the time being. With there being no end in sight for the Russia-Ukraine conflict anytime soon, it's unlikely world prices will fall much regardless of what happens across the rest of the world.
However, Australian grain markets aren't moving to the same extent as CBOT albeit more Australian grain getting booked into offshore markets, meaning there is still a significant disconnect between global values and the prices bid to Australian growers. At this stage, if prices hold through June and July, they will potentially hold through to the end of the year as the northern hemisphere's crop conditions become known and priced into the market.
What does this mean? Grain growers across Australia are likely to enjoy another record-breaking year for exports and farmers have responded by planting, on average, 1% more wheat than last year, and a record amount of canola. However, as the global energy crisis takes its toll, growers are dealing with the highest fertiliser prices since 2008. According to data from Rabobank urea has reached $690 USD/tonne (up 89 per cent on the same time last year).
Meanwhile, the 'rising cost of lettuce' is appearing all over our news feeds this week, while we know this isn't new, and it's not only lettuce. The impact of increases in diesel prices, input costs, worker shortages, and supply chain disruptions are becoming more and more evident to consumers across the country. While we've been celebrating our bumper harvest and rising grain prices, the darker side of the Ukraine conflict, COVID-19 and the looming cost of living crisis and global food shortages are becoming real.
From my perspective, as we near June 30, I'd suggest sitting down with your farm advisor to make sure your cashflow budget is an accurate representation of the current market. While financial forecasting is difficult with so much global uncertainty, it's vital to have something in place to ensure you have cash available to cover your operating expenses. If you don't currently work with your farm advisor on cashflow forecasting and budgeting, you are more than welcome to contact us for assistance.
All the best,
---
FARMING AND AGRICULTURE NEWS
---
---
To claim these expenses as a tax deduction, the payments must be cleared by the fund, (not just the clearing house) by June 30.
---